Terug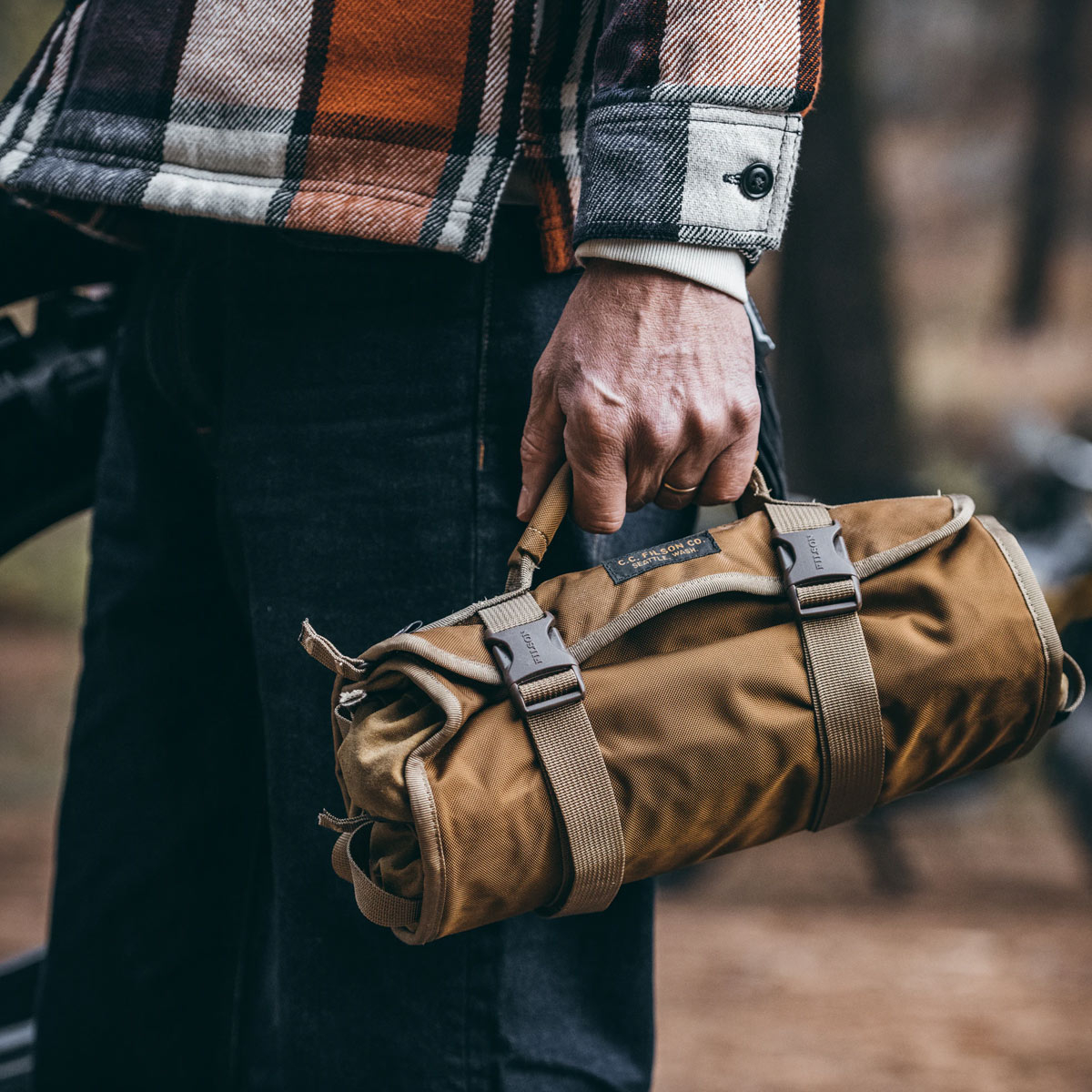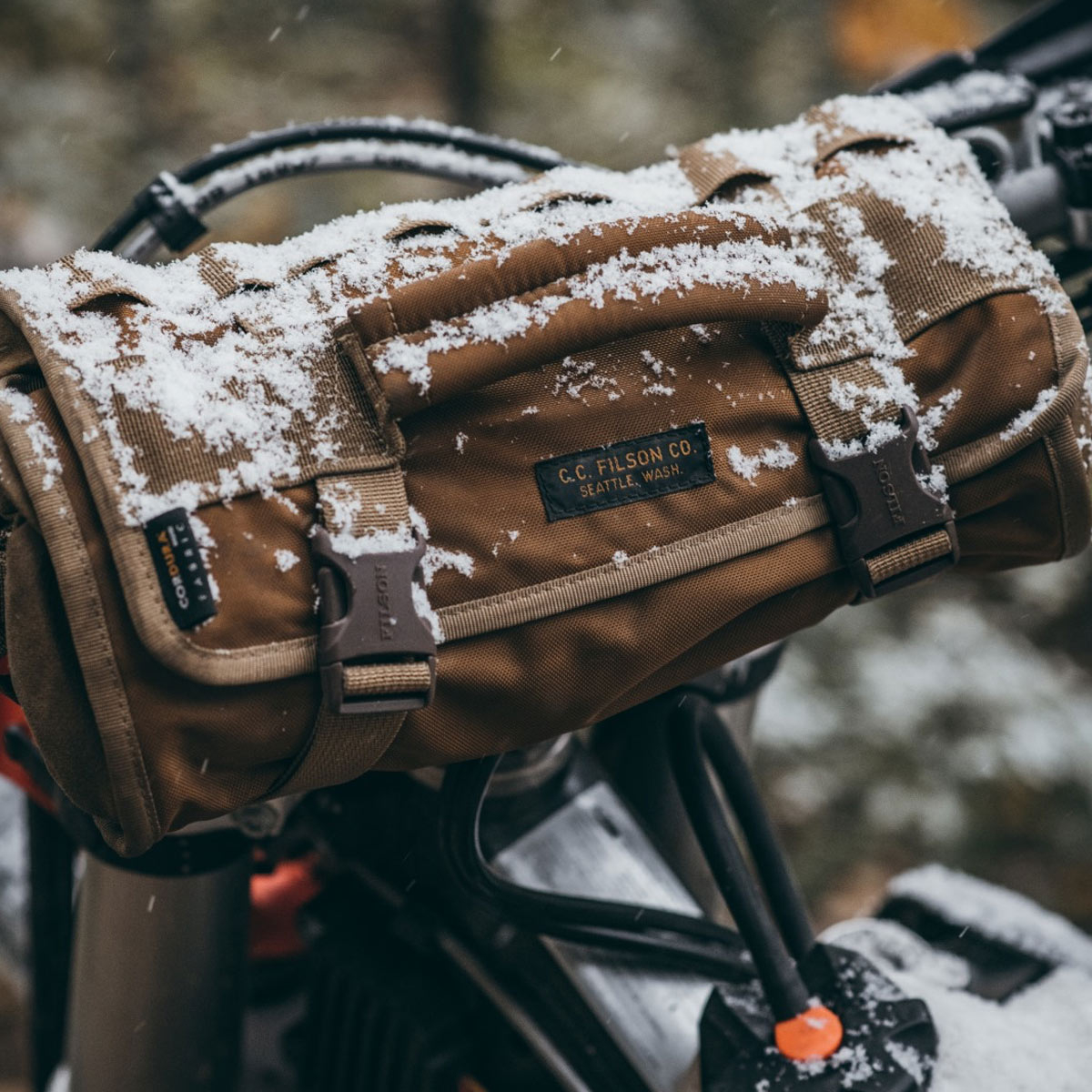 FILSON ALCAN TIN CLOTH TOOL ROLL 20167378-DARK TAN, carry your gear and tools on any road.
When the bike, ATV or truck breaks down miles from the middle of anywhere, you'll be glad to have your wrenches, sockets and screwdrivers organized and at the ready with this handy tool roll.
With an exterior shell built with midweight 7-oz. Cordura® ballistic nylon, this tool roll will withstand the rigors of travel, abrasion and abuse for a lifetime. Ballistic nylon, originally developed for flak jackets during WWII, is renowned for its toughness. The 2x2 basket-weave fabric is treated with a double polyurethane coating for maximum water resistance. The pockets are constructed with the same Tin Cloth that's protected lumbermen, foresters and sportsmen dry from the wet and brush of rain-soaked Pacific Northwest forests for nearly a century, you can be assured your tools will be protected from downpours and spray, no matter how wet the road or trail. The 14-oz. cotton duck from England's famed British Millerain is a tightly-woven 2-ply x 2-ply cotton canvas with exceptional tear strength and abrasion resistance. The fabric is thoroughly saturated with a special paraffin wax formula that makes it a formidable barrier to rain, snow and mud.
Two of the four Tin Cloth zippered pockets can be detached from the ballistic-nylon shell for traveling light and fast. The interior features a zippered clear pocket with key fob. Sturdy webbing/buckle closure secures it when rolled. The exterior is equipped with daisy-chain webbing for attaching added gear or securing the tool roll. A beefy nylon-webbing grab handle provides secure grip when it's fully-loaded.
The Alcan Tin Cloth Tool Roll – makes it easy to be prepared, like any good Scout.
FEATURES
Shell built with tough Cordura® ballistic nylon, Zipper pockets built with signature oil finish Tin Cloth, Two fixed and two removable zippered pockets, Interior clear, zippered pocket with key clip strap and nylon-webbing carry handle.
TIN CLOTH, legendary super strong, lightweight, and oil impregnated canvas.
Tin Cloth is a legendary super strong, lightweight, and oil impregnated canvas. This 'oil finish Tin Cloth' offers the greatest protection against weather influences and wear. Because the cloth is impregnated with a paraffin wax a wax layer creates a canvas that very water repellent and wind resistant. Also gives the layer of wax this Filson bag a slightly darker and more used look, fresh out of the package itself.
FILSON 500D BALLISTIC CORDURA® NYLON, offers true long-term value.
500D Cordura® nylon is a quick drying, highly water repellent and abrasion-resistant medium weight polyurethane coated nylon fabric with a Cordura weave. It is lighter than 1000D Cordura and heavier than 430D Packcloth. 500 denier Cordura is perfect when you want a fabric without the weight and stiffness of 1000D.
CORDURA® CLASSIC FABRIC, designed for living and built to last.
The original CORDURA® fabric with textured yarns. Designed for living and built to last, this durable CORDURA® fabric has proven performance in many of the world's toughest environments. Characteristics • Rugged – excellent resistance to abrasion • Strong - excellent tear strength • Water Repellent – quick drying.
Customers have trusted the toughness of Filson Rugged Twill backpacks, duffles, field bags and briefcases for decades. Using Cordura® ballistic nylon enables Filson to manufacture lighter-weight gear that matches their Rugged Twill's legendary durability. The thinner fabric also increases Filsons flexibility to include design elements not possible with thicker fabrics. Filson Ballistic Nylon bags are feature-filled, and with Filson dependability, they offer true long-term value.
HIGH QUALITY MATERIALS
Filson has been making bags and clothing since 1897. This way they know exactly what they are doing. Filson transforms high quality materials like the legendary Tin Cloth canvas into a tough and sturdy tool roll, perfect to protect all your gear in any weather. With so much experience, you can't go wrong with this Filson Alcan Tin Cloth Tool Roll.
FILSON GUARANTEE
Filson guarantees every item made by Filson. No more, no less. Filson believes in their products and stand by the materials, quality, and workmanship for the lifetime of the product. The product lifetime specifically refers to the time at which, through normal use, the product can no longer function in its intended purpose. Filson Guarantee covers: * Failure of materials * Failure of workmanship and craftsmanship * Manufacturer defects * Every item for the lifetime of the product. The life of the product, the normal wear and tear refers specifically to the time when the product can no longer function in its intended purpose due to normal use. The warranty does not cover damage caused by neglect, improper maintenance, accidents or normal wear and tear.
Filson has been making accessories, bags and apparel since 1897. This way they know exactly what they are doing. Filson transforms indestructible materials to firm and solid accessoires, perfect to protect you in any weather.
Filson Alcan Tin Cloth Tool Backpack, order at BeauBags, Authorized International Filson Dealer and your Filson specialist in Europe. Personal & expert advice | Europe's largest Filson collection | Immediately available, ordered before 22:00, we ship the same day | Free delivery & return | 60-day return policy.
FILSON, HERITAGE OF QUALITY, guaranteed excellence in outdoor clothing, bags and accessoires.
Schrijf uw eigen beoordeling
Merk
Filson
Kleur
Dark Tan
Afmetingen (BxHxD)
Nee
Materiaal
14-oz. 100% cotton oil finish Tin Cloth + Cordura® nylon + clear vinyl
Specificaties
>Shell built with tough Cordura® ballistic nylon
>Zipper pockets built with signature oil finish Tin Cloth
>Two fixed and two removable zippered pockets
>Interior clear, zippered pocket with key clip strap
>Nylon-webbing carry handle
Garantie
Limited Lifetime warranty against material and workmanship defect
Merk beschrijving
FILSON, RUGGED QUALITY FOR OVER 120 YEARS
Established in 1897, Filson is the leading outfitter and manufacturer of unfailing goods for outdoor enthusiasts. Built upon a reputation for reliability, Filson is a favorite among anglers and hunters, engineers and explorers, mariners and miners, and anyone who refuses to stay indoors.

FILSON, BUILT TO LAST
Headquartered in Seattle, Washington, and renowned for making products in the USA from fabrics such as heavyweight 22-oz. cotton oil finish Rugged Twill, Tin Cloth, Cordura Nylon, and warm Mackinaw Wool, this company stands for the highest quality and most durable apparel and accessories available.
Gemaakt in
Filipijnen